NumeroZero Titanium L.E. Yellow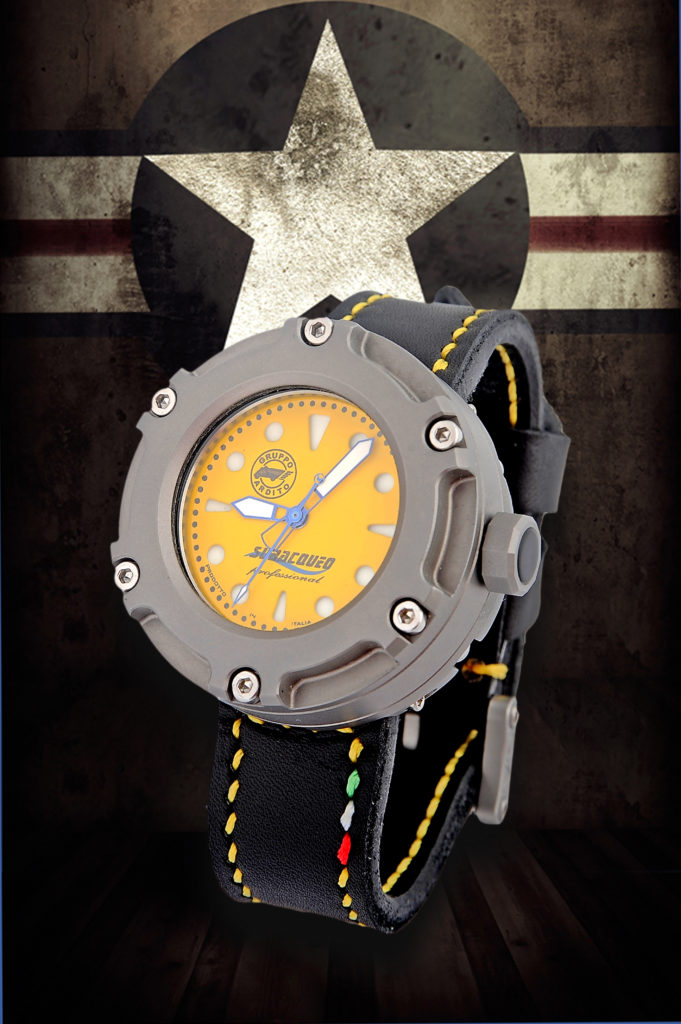 NumeroZero Titanium L.E. Yellow
Technical Information
Movement
Automatic, Swiss made ref GAW001
Modified by G.A.W. for suppressing the date
28800 alternanze/h, 4 Hz
25 rubins
Functions
Hour, minute, second
Case
Made in 3 parts:
Fixed bezel
Central body
Case back engraved with reference and serial numbered,
the case back complements the seat to the lugs
Titanium grade 5, finish microblasted
Diameter: 46mm
Hight: 19.5mm
Weight: 140gr
Lugs dimension: 22mm
Glass
Sapphire glass (4mm thick) with anti-reflective coating
Dial
Sandwich type made by G.A.W. , start from a inox sheet color Yellow Modena
Hands
Sport gladio type
Impermeability
Tested over 220 bar (2.200 meters)
Indicated over 100 bar (1.000 meters)
Strap
Kodiak Leather make for this watch dimension 22/26/22 made in Italy, 22/20.
Is fixed on case by screw and bars
Buckle
Roller type made in inox by G.A.W. with G.A.W. logo
Kraken L.E. OceanicTime
Details
This is a special version in limited edition, 10 pieces, for the OceanicTime Watch Blog. Respect the normal Kraken it differs for the bezel, crown, screws of the back and buckle treated with DLC.
The dial is customized Oceanic Time.
The caseback is specific to withstand a pressure above 500 bar (5000 m).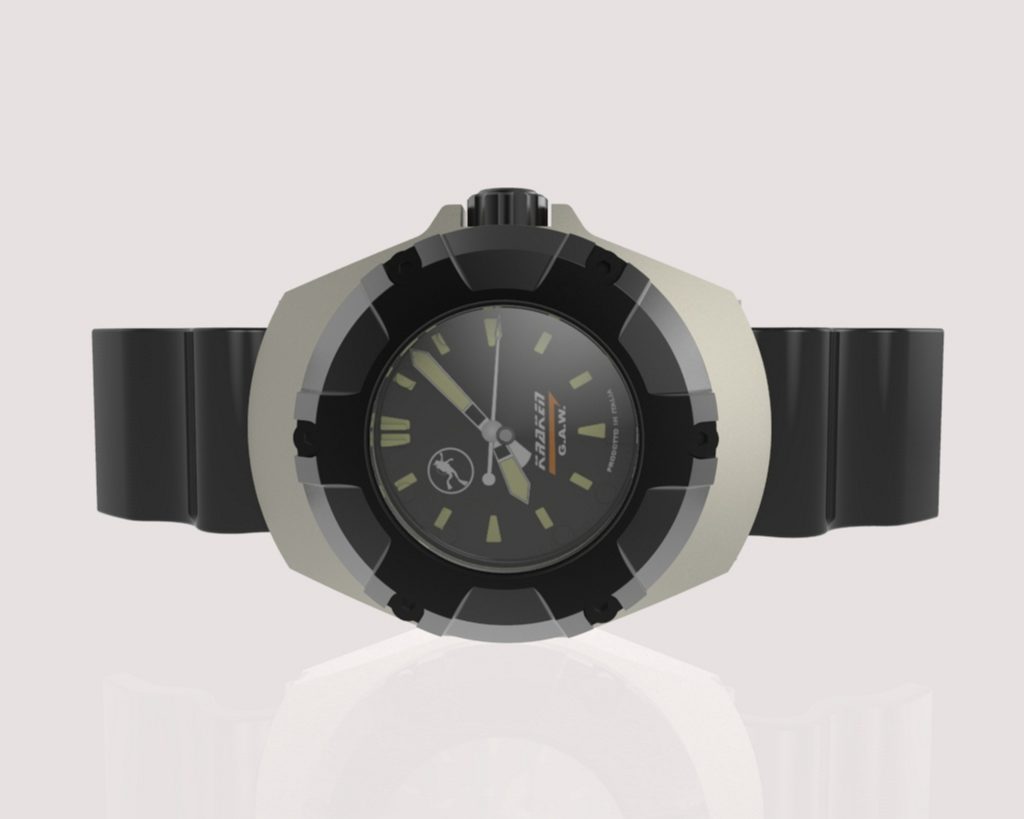 Kraken L.E. OceanicTime
Technical Information
Movement
Automatic, Swiss made ref GAW001
Modified by G.A.W. for suppressing the date
28800 alternanze/h, 4 Hz
25 rubins
Functions
Hour, minute, second
Case
Made in 3 parts:
Fixed bezel titanium grade 5 treated DLC
Central body titanium grade 5
Specific caseback with enamelled logo engraved with reference and numerical serial;
Caseback engraved with reference and serial numbered, titanium grade 5, finish microblasted
Diameter: 46mm
Hight: 18.5mm
Weight: 145gr
Lugs dimension: 24mm
Glass
Sapphire tglass (7mm thick) with DOME curvature and anti-reflective coating
Dial
Sandwich type made by G.A.W., start from a inox sheet customized Oceanic Time
Hands
Sport gladio type
Impermeability
Over 500 bar (5.000 meters)
Strap
Caoutchouc high tech color black, made in Italy, 24/20 is fixed on case by screw and bars
Buckle
Roller type made in titanium grade 5 treated DLC by G.A.W. with G.A.W. logo