The sportiest model of G.A.W.; aesthetics single, it is a mix of modernity and 70's years style, extreme from every point of view, both professional and technical. Thanks to the particular tinanium grade 5 case, its excellent materials and the shappire glass of hight thickness (DOME), Kraken has achieved a record of impermeability (over 400 bar – 4.000 meters).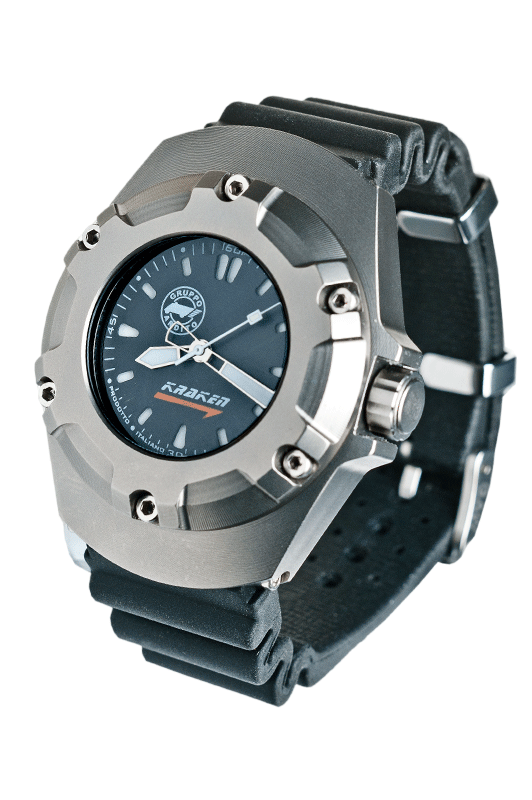 Kraken
Ref. C131A4C
Titanium Gr.5 case
Dial type sport Kraken
Titanium bezel Gr.5
Details
Kraken is the top sports model of G.A.W. , the very particular aesthetic; It is a mix between modernity and 70's style. Extreme in every point of view: aesthetics, materials, technical characteristics; the titanium used is grade 5, much appreciated for its lightness, more steel used in the production of professional watches and valuable niche. The sapphire glass is DOME, the dials, the finishes and straps are made with great care show a superior build quality. The case body is fixed by 12 allen screws (6 on the back and 6 on the bezel). The crown is screw type with customized titanium capsule. The glass water resistance is guaranteed by the first O-ring under glass and an L-shaped ring that works on the perimeter of the glass, the bezel has the task of packing the glass against the case. These technical features make it possible to ensure the watch with a waterproof seal in the upper water exceeding at a pressure of 400 bar (4.000 meters), self-limited value.
Technical Information
Kraken Titanium
Movement
Automatic, Swiss made ref GAW001
Modified by G.A.W. for suppressing the date
28800 alternanze/h, 4 Hz
25 rubins
Functions
Hour, minute, second
Case
Made in 3 parts:
Fixed bezel titanium grade 5
Central body titanium grade 5
Case back engraved with reference and serial numbered, titanium grade 5, finish microblasted
Diameter: 46mm
Hight: 17.5mm
Weight: 145gr
Lugs dimension: 24mm
Glass
Sapphire tglass (7mm thick) with DOME curvature and anti-reflective coating
Dial
Sandwich type made by G.A.W., start from a inox sheet
Hands
Sport gladio type
Impermeability
Over 400 bar (4.000 meters)
Strap
Leather made entirely by hand by Italian craftsman 24/24
Caoutchouc high tech color black, made in Italy, 24/20 is fixed on case by screw and bars
Buckle
Roller type made in titanium grade 5 by G.A.W. with G.A.W. logo
Contents into the box
Kraken
Crafted wooden box with orange coated interior and external logo stainless steel plate, booklet of assistance and warranty in a logoed envelope, personalized handpiece with magnet and additional key for dismounting the bezel, strap and buckle, spare OR and screws for closing the cash desk.
Strap supplied with the shark with personalized roller buckle.
Orange logotype with logo.